Complete Roofing Services in Brick, Toms River, Freehold and Surrounding Areas
We can solve all your roof repair and replacement needs in New Jersey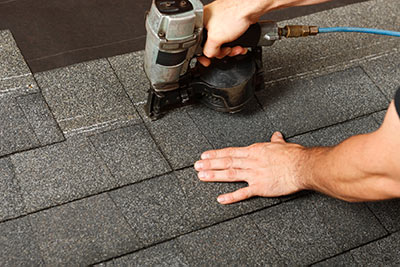 If you see damaged shingles or have any type of roof leak, call us for a professional roof inspection and long lasting solution.
Although most homeowners are aware of the importance of their roof, for many it's a case of out of sight, out of mind. However, waiting until you have a major problem with your roof is not a good strategy.
Many homeowners only address their roof after severe weather, storms, hurricanes with high winds or hail. Roofs frequently need repairs after these events, and addressing them quickly can save you from needing expensive and invasive roof repairs in the future.
The experts at More Core Construction can give you a thorough roof inspection to determine if your home has any roofing needs. We provide high quality roof repairs, roof replacement, and emergency roofing services for residential and commercial properties, and we can help ensure that your roof is strong and durable.
If you need any roofing services in Brick, Toms River, Freehold or the nearby areas, call us today or click below to get started with a free estimate!
Our Before and After Photos


We pay attention to all the details
It's obvious to say that the main roofing material, such as the shingles, is the primary focus during a roof inspection. However, we don't stop there. When our experts inspect your roof we will be careful to study all the details that determine whether roof repair or new roof installation is the best option for your home.
Additional roofing elements we inspect:
Gutters and downspouts: Without properly attached and pitched gutters and downspouts, water can overflow and lead to leaks in the foundation. We ensure the your gutters are secure and working properly.
Roof flashing: We will carefully inspect the roof flashing around your chimney, vents, and skylights, as well as step and valley flashing, to ensure that everything is completely waterproof.
Skylights: It's important to inspect the glazing seals between the skylight glass and the aluminum glazing bars. If we find a leaks in these areas, it can often be repaired with special sealant.
Roof ventilation: Soffit and ridge vents are generally low maintenance, but we will inspect them to be sure. Gable vents are more of a concern, as insects and rodents can enter your home if the screening is damaged.
Products
Owens Corning Roofing Options
Owens Corning offers a wide variety of shingle options, all of which meet the highest standards of quality, durability, and appearance. The three main categories are architectural, specialty, and traditional shingles. Architectural shingles are available in many lines, including TruDefinition Duration Shingles and Oakridge Shingles. Similarly, specialty shingles include Devonshire Shingles, Berkshire Collection Shingles, Duration Premium Cool Shingles, and TruDefinition Duration Storm Impact Resistant Shingles.
Benefits of Owens Corning shingles:
A variety of color choices
Energy efficient options
Extensive warranties
Strong and durable
DaVinci Roofscapes is the manufacturer of a wide array of industry-leading, award-winning polymer roofing products. DaVinci roofing tiles are proudly made in the USA and are manufactured to overcome the natural weaknesses of slate and wood shakes, while delivering the most authentic-looking roofing materials available.
Composite Slate & Shake Roofing Tiles
DaVinci composite roofing tiles are designed to mimic the natural beauty of cedar shake roofs and slate roof shingles. Developed with a state-of-the-art polymer chemistry, DaVinci composite roofing tiles are not only beautiful but durable enough to protect and enhance the value of your home.
Why choose DaVinci?
Beauty: DaVinci composite roofing tiles are modeled from genuine slate and hand-split shake. The thick profiles and subtle surface variations help provide a natural appearance.
Performance: DaVinci roofing products are designed to meet the highest performance standards for wind, fire and impact. The tiles resist curling, cracking, fading, mold, algae and fungus and are backed by a lifetime limited warranty.
Color options: DaVinci roofing tiles are available in multiple color blends and solid colors and have superior color fade resistance.
Choose from an industry-leading selection of shingles, widths, colors, and blends.
The DaVinci product lineup includes a solution for every home:
Single-width slate
Multi-width slate
Bellaforte slate
Single-width shake
Multi-width shake
Belleforte shake
Fancy shake
And more!
With over 20 years of experience, Versico is one of today's leading single-ply roofing system manufacturers in the United States.
Kemper System has been supplying home and business owners with durable waterproofing, roofing and surfacing materials for over 50 years. Today, their products can be found on important landmarks such as the Empire State Building and Madison Square Garden.
Kemper Roofing Products
Roofing Systems
Premium liquid-applied technology offered with a single-source warranty for various full roof assemblies, including green and eco-roofs and thermal insulation built-ups.
Waterproofing Systems
Monolithic, seamless waterproofing membrane for long-term protection of structures and buildings. Proven performance on billions of square feet throughout the world.
Surfacing Systems
Liquid-applied resin systems for surfaces with heavy or light vehicular traffic, pedestrian traffic or indoor applications such as mechanical rooms. Available in a wide range of design options.
Established in 1970, EcoStar is a leading manufacturer of environmentally safe roofing products. Using recycled materials such as flexible rubber and plastics, their items are durable for all weather conditions and are backed with a 50-year warranty.
Products Offered:
Majestic Slate
Seneca Shake
Empire Slate
Empire Shake
Accessory Lines
Trimline's innovative roofing products are made to withstand all weather conditions while also being lightweight, affordable and composed of composite materials.
Trimline Roofing Material Qualities:
More ecologically friendly
More affordable
Lightweight
Aesthetically pleasing
Long lasting
Roofing Shingles
GAF offers three distinct levels of shingle quality and protection, plus a remarkably affordable slate shingle option. We'll help you select the one that is right for your home's design and location.
Three-Tab (3-Tab) Shingles
Affordable basic protection for projects on a limited budget.
Timberline® Lifetime Shingles
Protect and beautify your home with Timberline®, North America's #1-selling shingles. Timberline® shingles now have a lifetime limited warranty!
Designer Lifetime Shingles
Beautiful, stylish, and exceptionally durable, Designer Lifetime shingles will make your home the envy of the neighborhood!
Raise your curb appeal with a new roof
The priority of roof replacements is to ensure that your roof is stable, durable, and waterproof. However, many homeowners are choosing roof replacement simply for the aesthetic value. An updated roof or a new roofing material can complete change the look of your home and increase curb appeal and property value.
At More Core Construction, we can help you determine if full roof replacement is the right option for your home. We provide a wide variety of roofing materials, allowing you to customize your home and create a unique, beautiful look.
Start by identifying your roofing needs
All roofs will eventually wear down and need replacement. However, you don't want to replace your roof earlier than necessary, nor do you want to ignore simple repairs that could prolong the life of your roof. We can help you understand common roofing problems and which ones should be dealt with right away so that you can make the best decision for your home.
If you have need any roofing services in New Jersey, call More Core Construction today to get a free estimate and learn about all the ways we can help your home! We offer our services in Toms River, Brick, Freehold, Asbury Park, Jackson, North Brunswick, Old Bridge, Howell and other nearby areas.
Looking for a price? Get a no cost, no obligation free estimate.