Different Kinds of Roofing in Toms River, Brick, Freehold
Our Roofing Services in New Jersey
Roof repair & maintenance
Roof replacement
Emergency roofing services
Commercial roofing
Thorough roof inspections & free estimates
Whether you're looking to replace your existing roof or are installing one on a new build, it's important to know all your options when it comes to roofing materials. Modern roofing technologies have expanded the list of options available to homes and businesses, and the experts at More Core Construction can help you choose the best material for your needs.
When deciding what roofing material to choose, there are several key factors to consider. The style and complexitiy of the roof, the climate, the budget, and the neighborhood are among the many criteria that should be evaluated.
At More Core Construction, we have the experience to help you find the right roof for your New Jersey home or business. Call us today to get a free estimate on all our roofing services, including roof replacement!
---
Asphalt & asphalt fiberglass shingles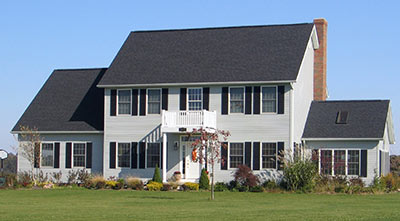 Asphalt shingles are the most common residential roofing material.
Though traditional names are still used interchangeable, today's roofing shingles are technically known as asphalt fiberglass shingles. These shingles have a fiberglass mat embedded in them to improve strength and tear resistance.
Asphalt shingles are the most popular type of roofing material for homes because they're affordable, easy to install, durable, and available in a wide variety of colors. Premium grades of "laminated" asphalt fiberglass shingles are typically warrantied for 50 years.
---
Clay & concrete tile roofing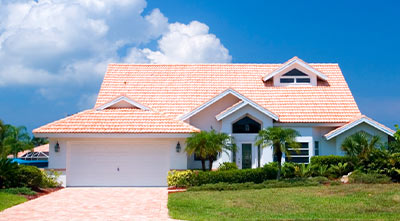 Tile roofs are most common with Spanish style architecture, but they can be used for a variety of purposes.
Clay and concrete tile roofing are generally paired together because of the similarities in installation. These tiles are designed to either overlap or interlock with other tiles to form the finished roof.
Clay and concrete tiles do have some limitations when it comes to climate, and they are not a great fit for areas with frequent, heavy rains or consistently cold temperatures.
---
Composite Roofing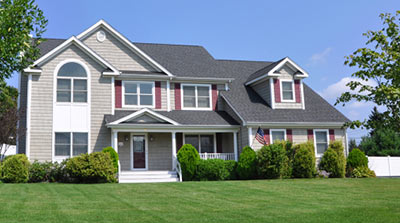 Composite shingles carry some of the industry's longest warranties.
Composite roofing is a phrase that applies to several different types of roofing, as it simply means that several different materials were used in the manufacturing process. This is common with asphalt shingles in particular, as the quality of modern shingles has improved with composite techniques.
Another common composite roof is a simulated roofing slate that is made from resins and from rubber compounds extracted from reclaimed tires. This material recreates the appearance of a slate roof with excellent longevity and a lower installed price.
---
Metal roofing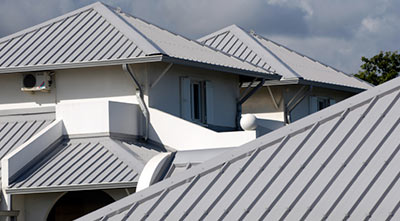 There are a wide variety of metal roofing styles available for residential and commercial purposes.
Metal roofing is a broad category that includes both factory-formed and finished roofing panels as well as roofing panels that are cut and formed at the building site. Metal roofing has a long history of use on houses, farm structures, and commercial buildings.
The main limitation of metal roofing is that it can't be used on complex or curved roofs. However, metal roofs can usually installed directly over a worn-out older roof without tearing off the old roofing material, saving time and money.
---
Slate roofing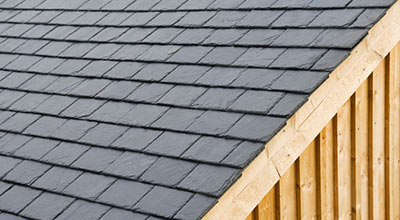 Slate is king of roofing materials but finding someone who can install or repair it may be a challenge.
Slate roofing is expensive to manufacture and tricky to install, which is why this "stone" roof is among the most expensive roofing materials available. However, slate is an extremely high quality material that can last for 75 years or more when properly installed and maintained.
Most roofing slate used in the U.S. comes from slate deposits in Vermont and Pennsylvania. Although it can be a big investment, a slate roof will give your home a unique, beautiful, and long lasting addition.
---
Products
Owens Corning Roofing Options
Owens Corning offers a wide variety of shingle options, all of which meet the highest standards of quality, durability, and appearance. The three main categories are architectural, specialty, and traditional shingles. Architectural shingles are available in many lines, including TruDefinition Duration Shingles and Oakridge Shingles. Similarly, specialty shingles include Devonshire Shingles, Berkshire Collection Shingles, Duration Premium Cool Shingles, and TruDefinition Duration Storm Impact Resistant Shingles.
Benefits of Owens Corning shingles:
A variety of color choices
Energy efficient options
Extensive warranties
Strong and durable
Ludowici was established in Rome, Itlay in 1888 after becoming famous for producing an innovative & crafty clay roof tile. After migrating to the United States, the Ludowici family business has now grown into a world leader of clay roof tile, terra cotta wall tiles, quarry tiles and decorative terra cotta finials.
Ludowici Spanish Tile Roofing
The Spanish Tile Line contains some of Ludowici's most popular roofing products. Also known as clay roofing, this product has the ability to enhance the design and protection of any home.
Benefits of Spanish tile roofing by Ludowici:
One-piece design gives the roof the rippled effect that Spanish roofing is known for
Available in a variety of colors to suit your home
Strong and durable protection
Camara Slate is a national leader in manufacturing & fabricating natural slate into roofing & flooring products.
Camara Slate ensures durability by producing slate that is ASTM Grade S-1 quality, which requires very minimal maintenance. They offer these products in an assortment of colors and textures.
Camara Slate Roofing Qualities:
Noncombustible
Resistance to acid
Fire proof
Non staining
Impermeable to moisture
Environmentally friendly
Established in 1966, Englert is an industry leader in manufacturing commercial and residential metal roofing and gutter systems. Their mission is to constantly use their innovation to improve services and the quality of their products.
Roofing Systems Offered:
Architectural Metal Roof Systems
Structural Metal Roof System
Curved Panel Metal Roof Systems
Soffit Systems
Retrofit Framing
Founded in 1963, Aluminum Trim And Shapes (ATAS) has grown into a national leader in the manufacturing of residential & commercial metal roofing, wall & ceiling panels, and trim products.
Established in 1963, ATAS International Inc. is a leading the industry of manufacturing metal roofing materials. Their wide variety of products include:
Energy Star qualified products
Insulated panels
Architectural accents
Equipment screens
Mansards
Much, much more!
Be sure to choose the right roofing contractor
At More Core Construction, we recognize that having a roofing contractor you can trust is just as important as finding the right roofing material. No matter what roofing service you need, we have a quality solution and the expertise to help you make the right decision.
We provide our roofing services throughout Northeast New Jersey, including Brick, Toms River, Freehold, Asbury Park, Jackson, East Brunswick, North Brunswick, Old Bridge, Neptune, Howell and the nearby areas. We offer free estimates on all our work, so call us today to get started!
Looking for a price? Get a no cost, no obligation free estimate.